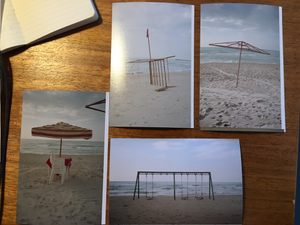 BX3:
An Apocalypse Induced Extrication From Form Exercise
BX3 : An Apocalypse Induced Extrication From Form Exercise
YAMMERER
FACT FILE 003
A LONG METALIC COIL
WRAPS AROUND THE YEAR OF THE RAT.Renders it Incapable of Drawing a Satisfying Breath
ON BOA BEACH  
ON THE EDGE OF REALITY ESCAPE.R
THE YEAR OF THE RAT SEES  ANOTHER WAY
AN opportunityPRESENTS
the Y.O.T.R is released from the metallic coil

B0A BEACHB0ER:
An Apocalypse Induced Extrication From Form Exercise
You are standing On the low end slope. The 0cean holds sensational boots around your shins as you watch the tide gradually retreat. Once a jetty, Forever the size of an aircraft carrier. Broken from the land. Forever drifts out into an 0cean. You are still. The waves lap gently, Slapping your ankles.
You remember the beach; Embracing water, Dancing with the waves, Chasing spirits, A sky so vast  you  can feel its presence breathing .
Where you once stood. A new reflection in a strange object. 
On the shore. A Metallic Coil. Long and Silent and Tightly wound.
You hear waves splash around you. The spray caresses.
Look.
                                    not a soul in sight.
The shape is alone in the water, you are alone on the shape.
Traveling softly, Into the fog.
Out there, there is a memory of the beach. Of a tree stood still. Of the outgoing tide lapping gently against thighs. Carrying the unneeded impressions of time away.
Your reflection on the shore is IN the object. A memory dissipates ever so, with each wave calming, the sand is gradually washed from between your toes.
The splash of the water can no longer reach you .
The Shape You Stand On Grows Skyward from the Depths.
        Up Through the Fog Towards a Sun.
A New Sun, faintly illuminating a possible horizon. You feel warm at the prospect.
The beach is far away, you appreciate it more than ever,
                                                                                                                                      so you blow it a kiss
The kiss calms the waves. You see The 0cean is an image. the waves become ripples .
calm and calmer still
until the 0cean. The Entire 0cean. Is Perfect.
the entire ocean is perfectly still