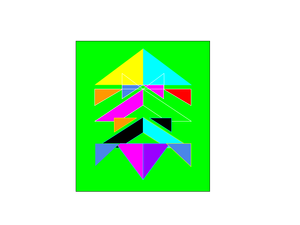 MLAHYAM THE ENTITY
[AUTO GENERATE REPORT: CZIZ202020-MLAH-YAM]
[BROUGHT TO YOU IN ASSOCIATION WITH THE DR YhQO PROGRAM] 
Growing from the extemporised seed of instant composition; Yammerer has genetically modified its sound into a Multi-Limbed-Anti-Hero (M.L.A.H-YAM). This ever-evolving behemoth's notable fuel sources include; Garage / Psych / Post-Punk / Krautrock / New Wave / Oat.  Last spotted early 2020 confronting the 'Reification of Reality' off the coast of Phase One, MLAH-YAM has been known for wrestling with 'The Imbalances' since 2016. 
Fighting in the corner of Truth, Freedom and Connection. Sources have confirmed that through this raw and earnest approach; MLAH-YAM has displayed the ability to engage and captivate an audience. Guaranteeing presence in the room for periods of 214.2 seconds to over 80 minutes. 
In late 2019 radars picked up an Invitation to Awareness signal transmitted from North West City. This signal we now know of, as the location of the Reality Escape Resort (R.E.R). Constructed by MLAH-YAM using the ancient teaching of Saṃsāra and a Perspective Interchanger. It appears that once R.E.R is accepted onto a subjects default mode network, an expansion path upgrade past other liberation impediments generates simultaneously.*
Early 2020 saw the interception of a 2nd transmission. When the blueprint for a structure entitled 'ERTH STATION ZEBRA' (E.S.Z) appeared on the server. This lead to the discovery of a transcript, contained within the black-box, found aboard the wreckage of the destroyed research vessel - R.V WOODEN STAR. After a 47minute decoded, the first confirmed ID of the Perspective Interchanger known as 'IIIDEXoN' was validated.
*[Analysis of the source code suggests**: This anomaly may occur through the layering of extra-dimensional narratives. By phasing variable forms in which perception can exist, directly onto and through the Three Root System; An opportunity to observe the briefest moment of pattern in flux could be captured.] 
                   **It is agreed that at this stage further studies into the phenomenon will be necessary.